Natural Health Matters Magazine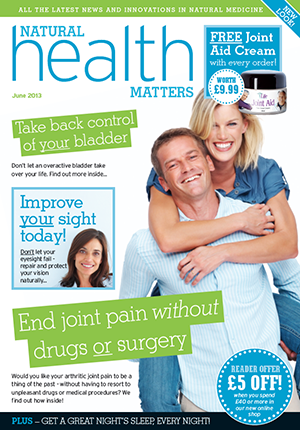 Natural Health Matters magazine is dedicated to keeping you up to date with all the latest news and research in the world of herbal healthcare. Every month, we have a selection of in-depth articles, expert advice, news, supplement reviews and much more! Our in house experts will help guide you with impartial information and proven medical knowledge - they will also help bust some of the myths surrounding natural healthcare.
We have also made it our mission to seek out the best possible value on natural products, so we are able to bring you amazing deals on quality, tested herbal formulations. We have teamed up with many of the UK's foremost suppliers of health supplements, to negotiate amazing deals exclusively for Natural Health Matters readers. And because we only recommend proven, effective products we offer a 100% money back satisfaction guarantee on all products purchased through our online shop.
The team here at Natural Health Matters would love to hear from you if you have any questions for our experts or suggestions for things you'd like to see in our magazine. To get in touch email admin@naturalhealthmatters.com